Tiedemann Performance Lauded "Outstanding"
---
---
Pictured here is Andrew Tiedemann scoring another try against his old club, UVic. Tieds scored his first try for the Nats yesterday, after 33 caps. His try was the lone Canadian tally in a 16 – 15 "upset" victory over higher ranked, Georgia. Canada, ranked #18 got the better of Georgia, #13 ranked in what was, from all reports, a very close struggle. In fact, if Georgia had converted their second try, the one point victory would have been reversed. That being said, obviously, Nate Hirayama's three penalties and a critical miss, indicated the referee being somewhat bothered by Georgian infringements, nice to suspect that this aspect went the "other way" for a change. One could also extrapolate that the forwards played a big part in any ascendancy that may have occurred during the match. Coach Crowley described Tied's eighty minute match as "incredible" – 'onya, Tieds!
So, well done, Canada! The six minute clip below shows some good efforts and phases of play. This, blended with RC's releases point to some big improvements since the inclusion of Cudmore and Sinclair. Woolridge's withdrawal, raises questions but DJ looked good in the clip and lasted long into the battle with obviously a very solid pack. For the backs, Jamie (Ed. apologies... and thanks for the MacKenzie support in Esher!) MacKenzie was reported to have played well at #9, with McRorie coming on mid-second half. Nate went well at #10 and seems to be providing the critical link. His eleven points were the difference but the miss may have given a little more breathing room in a close encounter, kicking points being ever so critical in so many outcomes these days. Hassler, in this clip looks lively and world class. Personally, I just liked the looks of the ball movement; handling; forwards DRIVING forward; support at the breakdown; improved support lines so that the attack went forward and obviously, very committed defence. This must have been a very heartening outcome for all concerned, as both Rumania and Italy, Pool opponents, play a similar style of forward-oriented game and to know that you can match them sufficiently to spring strong outside threats would be providing a certain belief to our boys.
Next up is Fiji, #9 ranked, a game where the style might need to rather tight to restrict the outside brilliance of the Islanders. If discipline can be maintained with defensive lines, I predict the Canadian backs can be just as exciting and threatening as their opponents. This match will be live streamed at 6:30 a.m. PST, details not known atm.
An Oleo of News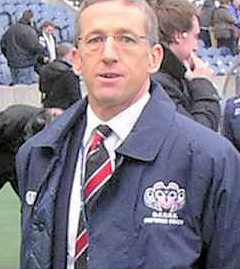 CW applauds local official of many years' service, Bruce Kuklinski. "KK" as he is locally known by all and sundry has been selected as a member of the RWC Disciplinary team. Bruce will be one of eleven Citing Commissioners. His task will be to "be entitled to cite a player for any act(s) of foul play which, in the opinion of the CC warranted the player concerned to be ordered off." A most important role.
Bruce joins B.C.'s Al Hudson (Judicial) and Justice Graeme Mew (Appeals). Hats off to all.
Rugby 101
Further details; Open to everyone above 19 years of age, men and women.(n.b. earlier announced for all ages) It's for new players, old players and anyone who wants to learn basic rugby and about the social fun atmosphere. Parents who have kids playing that have never done it before are our big target with this.
Starting on Saturday Sept 12, 19, and 26 at Windsor Park from 9:00-11:00, here is your chance to learn the game with rugby ball in your hand. Everyone needs a little rugby in their life, you probably know someone who plays for Canada, or a local club but you haven't the first idea of what's going on. This is the chance to strap on the boots and give it a go. You will learn the basics of the game including tackling and how to safely play.
$50 per person or bring a friend and split the cost.
You must pre-register! Contact-Gordon Kehoe (250 580 1143),
U.S.A. dropped a mid-week, RWC warm-up to Harlequins, 19 – 24. The Eagles led early, 11 – 0, only to trail with little time left, 14 – 24 but finished the full eighty with a tally for respect. Next up for the U.S. is the Wallaby side en route to U.K. This match takes place in Chicago on Saturday, televised by NBC, 4:30 p.m. (PST)

Finally, it's "adios" from The Ruggernut, off to U.K. and Europe. Keep your eyes on this site as blogs will continue with Monday's Musings and game previews and post recaps. I will try to get a post-game, Ireland comment, live from Millennium.
---