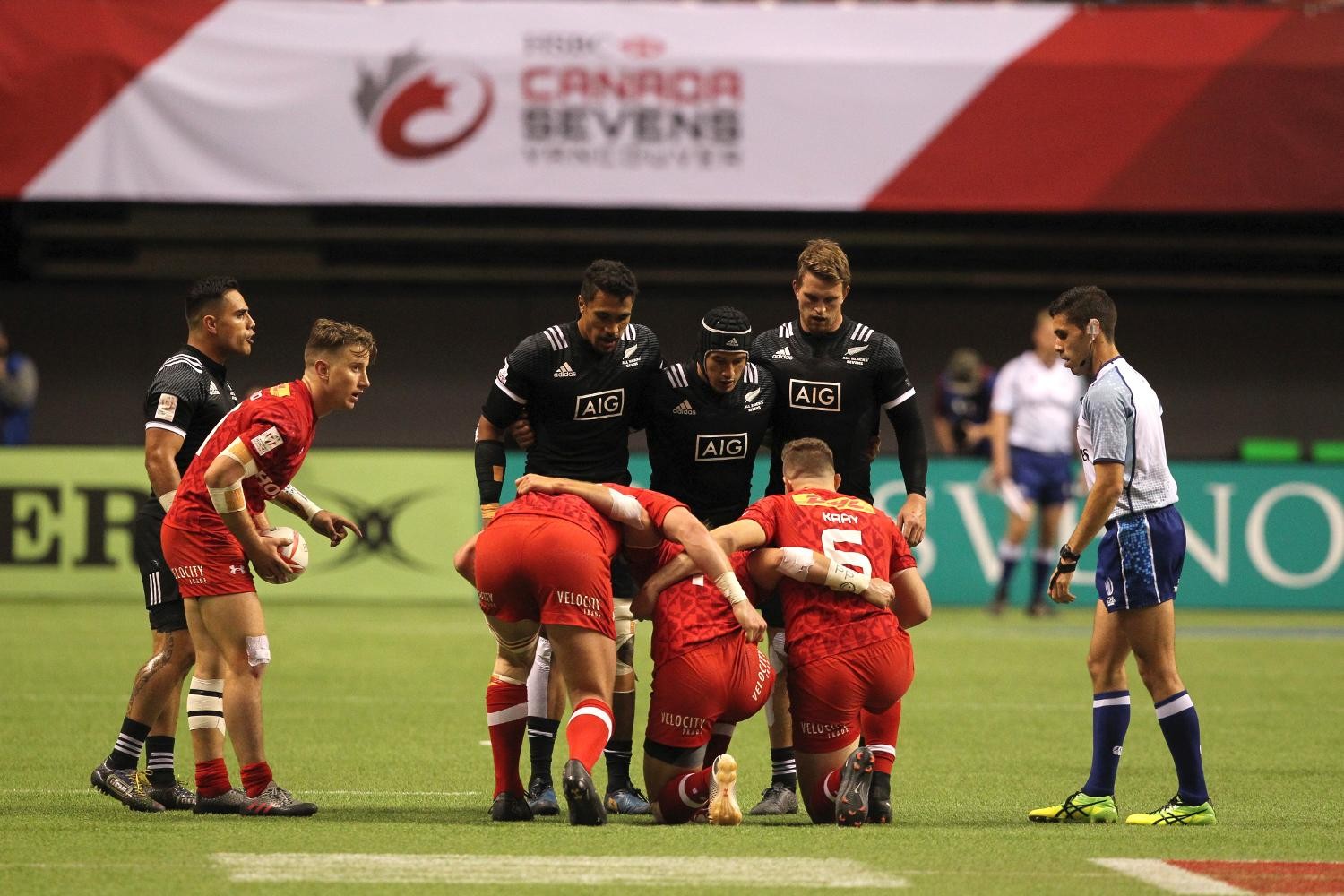 Reflections on Vancouver.
Sevens, a product of; speed, size, strength and skill.(Arguably in that order!)
Day#1: A great effort from Canada – controlled win over Scotland; slow start, quality finish over Russia with Zaruba showing "world-class" improvement, bagging a fin of tries; then N.Z.! An 'educated' crowd of 38,000 lustily booed three calls "made" by the Portuguese referee, one not even debatable after a re-start and two 50/50 at best. This blogger has often argued calls go to a higher ranked side. This largesse enabled N.Z. to "hang on" to a 15 – 14 win, this with Canada having basically nine "fit" players.

Sidebar – The officiating over the two days often left fans bamboozled with what constituted a high tackle, hoodwinked with a preponderance of jersey pulling vs "wrapped arm" tackles and a total confusion with breakdown calls. The interpretation between the transgression of the ball carrier "not releasing" and the tackler "not rolling away" at the tackle contact, provided wide variance and little consistency.
Day #1 was a marvellous day despite any foibles. It was interspersed with a terrific Women's Final with the Canadian Maple Leafs defeating an RSA Development Team, 33-0. Both Sophie De Goede and Caroline Crossley (CWRFC), were on the team, along with a number of players who have played for the Canadian team, notably, a scintillating Charity Williams who bagged a hat-trick. A covered roof ensures no issues with wind, sun and rain. There are good sight lines for the spectators, a huge jumbo-tron with replays, reasonable food and more than adequate fluids for every taste at this setting. Couple this with the option of meeting and greeting friends, it doesn't get much better for a rugby gala! The day concluded with an awesome Re-union of Canadian International Alums and a special 60th birthday celebration and recognition for Vikes, Doug Tate. A truly big outing for B.C. and Canada's rugby fraternity. (A special thanks for the many sponsors of this event held at Mahoney's Pub).
Day#2: It was an early start for Canada when a patched-up band of warriors faced the Blitzboks, leaders on the circuit, at 11:00 a.m. This one was one-way traffic. In the afternoon Canada faced Argentina who had played well to this stage. Despite hope drawn from the opening tally by the "reds", they simply ended up out of puff, going down 5 – 12. It was still a seventh place finish, earning ten points and vaulting two spots into tenth place overall. Perhaps the rest of the day was a little anti-climactic however, the final two games ramped up the tempo. An ever-improving U.S. side, still missing Test and Iles, almost nudged Fiji for third place as speedsters and creative talent exchanged scoring, with Baker notching his 100th Series tally in a losing 24 – 28 effort. This was Sevens at its best. The final went to a deserving English side, 19 – 7 over RSA. The Blitzboks, mostly devoid of the ball, made a late surge, only for speedster, Specman, to pull a hamstring. In this one Dan Norton notched the "gap-opener" to match the all-time try scoring leader, Injera at 244!! England were solid throughout and seem to be the one side that can constantly cause South Africa headaches, as they now sit "securely" in second place on the table. It was good to see a large number of the 38,000 stay until the end, appreciating the spectacle. In all, a hugely successful show.
For Canada, Hirayama and Jones are playmakers of world class. Zaruba came of age and it was sad not be able to see him on Day#2. Douglas is amongst the speedsters of 'the show'. There are others worthy of mention; personally, I love what Hammond brings, Mike Fuli is solid and can cause valuable openings. The Kays, particularly Pat, are coming on. In time, we will see more from McCloskey, Berna, and Mullins etc. So, it's off to Hong Kong in April, in a Pool with RSA, France and Kenya, the latter two below Canada in the standings. Canada still measures itself against the best, as it should and MacGrath has the boys truly believing they can go with the best, if healthy. For those who were unable to enjoy with a hugely supportive Island contingent, this writer hopes you have enjoyed today's flavour and I will leave you a couple of final musings! I thought Chile was remarkable – played hard and with good skill – bouquets! Whilst with bouquets – a big bunch to Chris Assmus whose performance was amongst the most consistent with the whistle. Then there was the crowd, mostly great fun, orchestrated on the big screen with plenty of action between game-lulls, great dancing, costumes and generally good will, very little boorish behaviour, although some sore heads on Sunday! Tournament disappointment, my native land, Okkers – totally lack-lustre. Final thought – with all the money generated, cannot speculate what goes to the host country but surely, the current results, efforts and coaching, the dollars can partially take care of the rug that went AWOL with OTP funds and players can continue to make a "living wage", as the talent sources are scoured across the land to ensure improvement. No doubt about the fact that visibly, the train appears to be back on the track with Men's Sevens. Well done all.
---