Hallow's Eve Quadruple-Header
---
---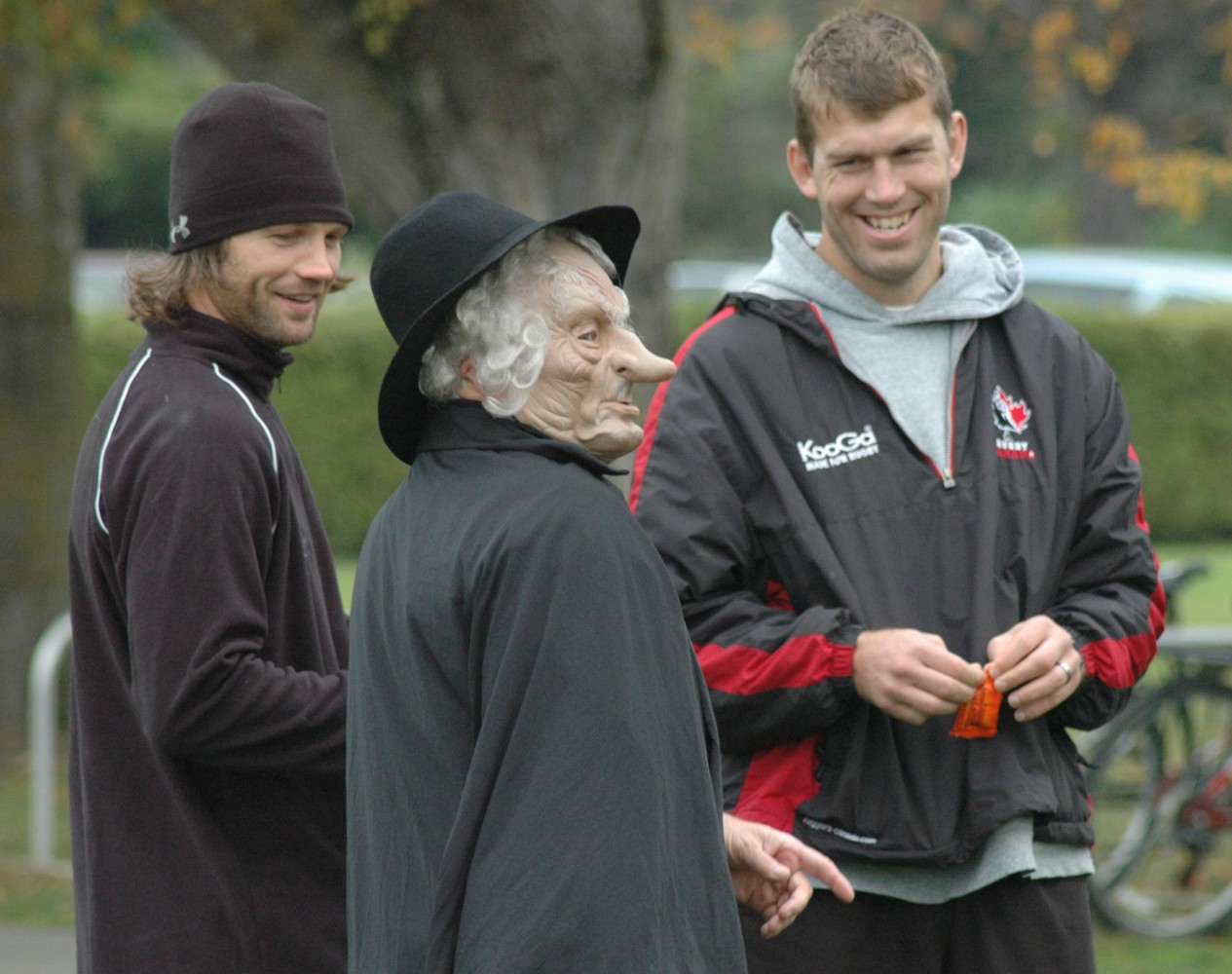 The Ruggernut ponders Saturday's outcomes with Morgan and Ed!
The Chaplain reports that mustering a third senior men's team for same day challenge is somewhat akin to changing water to wine, however, it has been done and the Mighty T(h)urds will face James Bay III, reportedly, an under 20 side. If so, plaudits to James Bay lassoing enough players at this age level is no mean feat and stands them in good stead as this is an important transitional stage where players are often lost. This match kicks off at Windsor at 10:00 a.m.
Following the Thurds, will be the BCRU Women's Premiership match between the hosts, defending titlists and Burnaby Lake, a former perennial winner of this Championship before the Velox Valkyries came along and last season the upstart Tricolour CW team. Burnaby have not lost any of their competitive spirit and still will represent a real handful; for the Hosts. CW find themselves at the bottom of the points table with a negative total after having to forfeit their opening match to Seattle and no doubt this embarrassment alone will be ample motivation. One can expect fast action and good skills on display from both teams, the match certainly deserving of a good turnout of fans. This game kicks off at 11:30 a.m. At time of post, teams were not available.
Fingers X-ed that the weather has cooperated and the pitch is still holding up, the senior men will follow with The Ones facing old nemesis James Bay as well. JBAA sits below CW however, has a game in hand and both teams are struggling to keep up with the pack. There has been recent hope with the Home team as they have earned top of the heap, four bonus points. Ones open at 1:00 p.m.
CW teams named for Saturday's contest seem to have suffered some injury fallout from last weekend, with The Prems missing Barkwill, Scholtz and Ngongo, joining Moor and Dala on the injured list. Although viewing the team selections of both clubs, there is suspicion that Rugby Canada players may have been omitted as some "different" placements are noted. Likewise, The Ones selection also shows some different players. Premier Rugby kicks off at 2:45 p.m.
In the main game, both clubs have opted for tried and true selections in their packs, realising that this is where domination must occur if a sniff of a win is to occur. For CW, there is one major change, that of Connor Turner debuting as a starter. Turner put in a cameo last week and impressed in this limited showing. Coaching staff appear impressed enough to keep Nate Thomas on the side of the scrum, moving Jon Mo out to the wing. Jon may be internally disappointed but this will not show in any way other than increased motivation and determination. Last time round, JBAA tight head, Keith impressed and that would have been noted. Kieran McAuley seems to be a new name for The Bay, on the flank.
It is the backs where major shakeups are on paper, no doubt due to necessity rather than experimentation! JBAA has a new name @ #9 to this pundit, Robert Freckleton, who will link with Whitey at #10, Sean proving his versatility, once again, #15, #9 and now 10 in three games! CW will counter with the Dalsin – Styles combo which impressed last outing. The Bay has pulled Luke Campbell to the centers to pair with JWR, so soon back from the Riders in Sasky, despite the loss of Braid, this could be a handful for any defence. CW will match newcomer, Kiwi Hutton who topped the tackle count last week at 10 and a similar effort will be needed against the Blue pair, Hutton joining with Doug Fraser. James Bay's back three of Slater, Andrew DeGoede and Adams is a different look although CW certainly knows the dangers of Adams. This diminutive player has pace galore and inserts at the most unexpected occasions. CW has old heads on the wings with Horton and Morris and experienced Hickman gets the nod as custodian. So, although both teams are depleted, arguably, of their best, the combinations are appealing and another hard game between these opponents can be expected. For a Home victory, eighty minutes of patience and concentration will be imperative. A shout out to supporters of The Tricolours, WE NEED YOU!
*Prems vs JBAA*
1. John Braddock 2. Clayton Thornber 3. Doug Wooldridge © 4. Cam Polson 5. Connor Turner 6. Nathan Thomas 7. Riley Ilnicki 8. Dustin Dobrofsky 9. Mike Dalsin 10. Keaton Styles 11. Keenan Horton 12. Nick Hutton 13. Doug Fraser 14. Jonny Morris 15. Ian Hickman
Subs: Jack Sponarski Nathan Stewart
*Div 1 vs JBAA*
1. Doug Hepp 2. Doug Pearson 3. Grant Baird 4. Neil Fowler 5. Kyle Hohert 6. Kieran Lauridsen 7. Riley Turchet 8. Broeghan Carroll 9. Dave Morgan 10. Oliver Winser 11. Matt Kelly 12. Fletcher Evans 13. John Moar 14. Justin Logan 15. Brandon Gerhardt
Subs: Jordan Henderson Jeff Crone Darren Parcells Sam Stephenson
Food Truck on site and beverage available in the Pavilion. A reminder to all fans; "Cheer responsibly, we never know who's listening"!
Anton - one swerve too many!
---