A Tale of Two Halves aka Temporary Table Toppers!
---
---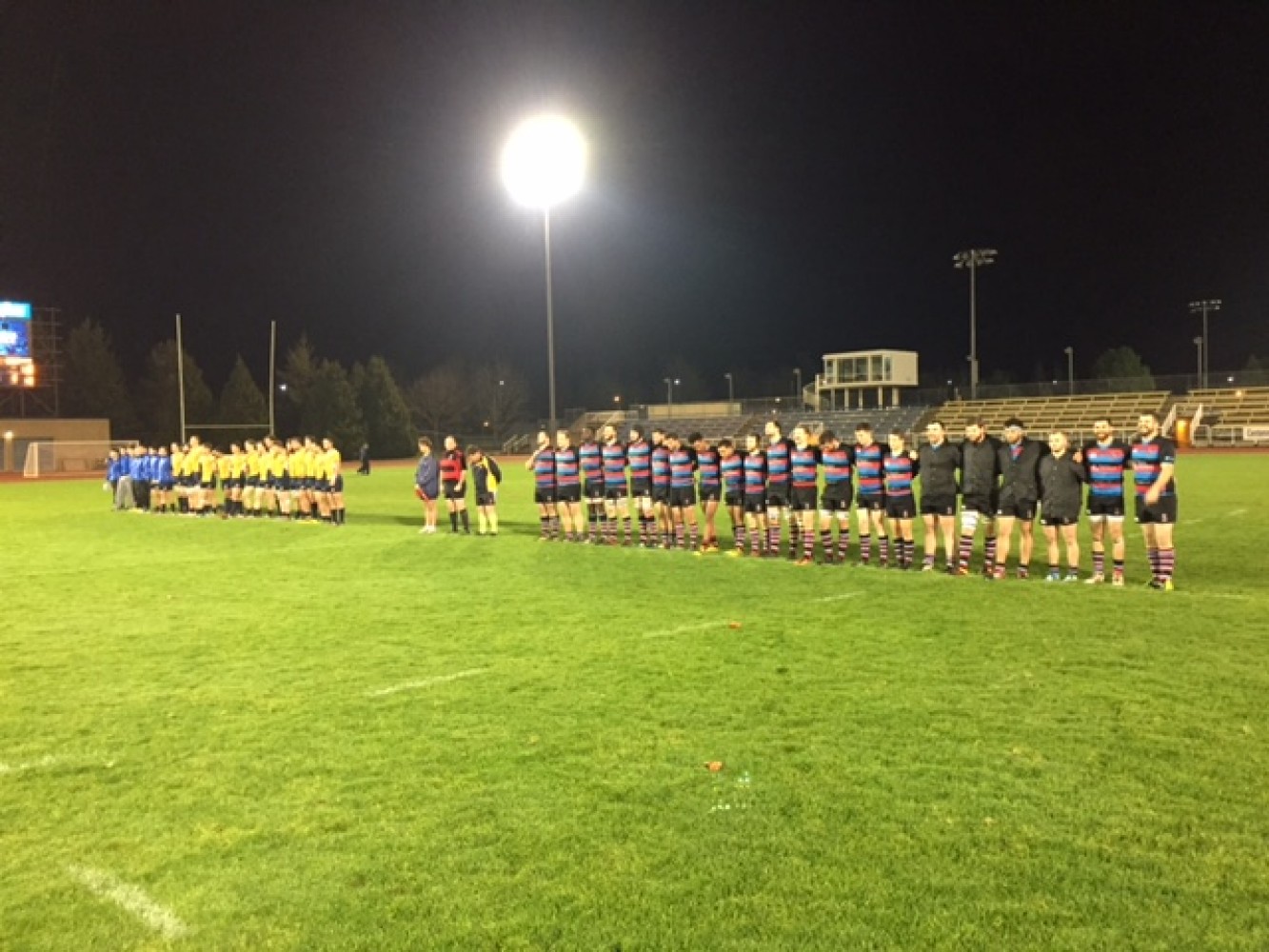 Last night at UVic it was a game of two halves with The Visitors, a team which could control its own destiny, doing just that by the end of the night. It was good to see CW do that and also to finish with a flourish, both aspects we have not witnessed in recent seasons.
The Vikes opened by setting CW reeling on their feet with a twenty-five meter maul that almost resulted in a try. CW did recover but the Viking attack continued, aided by some CW errors. Around 13 minutes, with UVic on the attack, Ngongo pinched a telegraphed pass and went on a 75 meter scamper for the opening score, 7 – 0. Although CW continued to gift errors and make poor decisions, they managed to lead at 7 – 6, also missing a couple of deemed "kickable" penalties, for a prolonged period. With about five minutes remaining, UVic quickly moved the ball wide for a hint of an "out-flank" and a solid finish avoided the tackle and earned Lorrimer the try, 11 – 7, UVic. The Visitors appeared just a little flustered by some calls which were difficult to interpret however, managed an attack, only for them to return the favour with a telegraphed pass akin to their gift which enabled Lorrimer to show clean and quick heels for a sixty meter tally, 18 – 7, UVic @ the interval. The faithful were certainly quietened with things just not working out in what was a lack-lustre contest to this point and it remained questionable as to the ability to rein in the flying Vikes.
The second stanza started positively for Ceedub having good field position for a solid ten minutes but the Vikes got out of jail with a raking punt from du Toit, (we saw a couple of those on this night) and when UVic earned a turnover from another error in contact, they also earned a penalty which they tacked to their lead, 21 – 7. Unfortunately, Nott, who had been going very well for UVic had to be replaced and for a few moments some real energy was sparked, some phases were executed, ball retained and Polson was over about 17 minutes in, 21 – 14, Vikes. Very shortly after the re-start, U.Vic's du Toit, added his 14th point for the night and a ten point lead for the Vikes.
Finally, it was Doug Fraser who ignited the proceedings as he has so often has done this season, when he shimmied wide and looked inside for a precision incision from Hutton who popped to sub, Dave Morgan whose pace saw him cross, untouched, under the posts. We saw Dave do this last season in a game against his alma mater. The convert got it close at 24 – 21, with momentum noticeably swinging. It was the forwards who then took over, Polson, Dobrofsky and Turner being very noticeable although the hard graft was really occurring with the FRF, the skipper, in particular, having a good outing. Things were occurring with pace and accuracy. It was Fraser again, only for the thrust to be thwarted with yet another lost ball in contact – let's attribute this to the rain that was falling! Moar then put du Toit under pressure and CW earned three penalties in the red zone from scrum issues only to ultimately transgress at the breakdown. CW continued to ask questions, based on solid forward go-ahead. Finally, with about five minutes left, Fraser shimmied, put it in overdrive and sidestepped back inside for a most deserving try, 28 – 24, CW. With few ticks left it was Fraser making yet another break, offering to the mercurial Schellie who had a very good match, on debut and he fed Scholtzie who, no doubt was happy with a final contribution, 35 – 24, CW.
The game was no technical beauty however, the intrigue factor, as well as keeping the suspense involved, made it very "watchable"! For the Vikes, although they manned up for a long time, eventually they succumbed to the forward pressure. Their sets were splintered from the start and Pitbaldo did well to clear, although he was aided well by Nott until his departure. Burns and Bos worked hard as did Jeff Nishima but this pundit fully expected to see more from Chisholm. The backs were pretty much kept under control, although there was electricity whenever they got the ball. For whatever reason, it was unfortunate not to see Kaay (#8) and Stewart (wing) not on the field, rumour being, Rugby Canada reasons.
For CW, the pack was full value and scrums and lineouts were pretty reliable. The boys awarded Schellie the hard hat (players' player) but I must give MoM to Dougie Fraser, a very classy player both on attack and defense. The Scholtz experiment left the jury out, although it may have to be repeated with Stiles often having work duties. Schellenberger certainly took this opportunity and his performance will add to his body of work impressively. Moar was steady and it is to be hoped that injuries incurred to him and Ngongo are not serious. Finally, Hutton was solid and his timely incursion sparked a try which was critical at that stage.
To the referee (and AR's) Mr. McDonald, a trek all the way from Kelowna, thanks. This chap has not been observed by CW and in the early going at the breakdown and later officiating of scrummages, looked a little short of a trot at this level. Not to be critical, for it is good to see an expanded crew officiating CDI matches and his appraisal will make him better for the outing. Finally, with JBAA playing Westshore today one can only surmise the Top of the Table will be short-lived but the accomplishment of securing a spot in the Barnard Final is to be commended and congratulated.
A shout out to the NSMT for a great showing against Ireland today, deserving an even closer score than that which the scoreboard displayed.
---